Parking & Transportation at Alberta
4801 Alberta Ave.
El Paso, TX 79905 (Directions)
To help you get to your destination as easily as possible, we recommend considering the following parking information:
Patients may be dropped off or picked up at the main entrance or as directed on the pre-visit information from your doctor's office.
All parking areas have reserved parking spaces for people with special parking needs and/or designated parking.
Parking areas are van accessible.
Driving Directions
Follow I-10 and take exit 23A toward Raynolds St. (south bound). Turn left onto E Service Rd (parallel street to the left after crossing over Raynolds overpass). Then turn left at the 1st cross street onto Alberta Ave. Texas Tech Physicians of El Paso at Alberta will be on the right.
Self-Parking
Patients may park in area P1 - West Patient Lot, P3 - East Patient Lot, and P4-Ladd Street.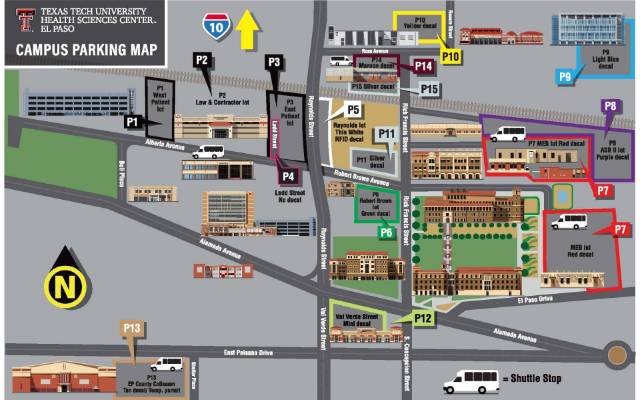 Public Transportation
Sun Metro provides safe and reliable means of transportation for El Pasoans and visitors. Trip Planner offers a web based solution to view scheduled and real-time bus information. Mobile device user can benefit from using the Sun Metro App on iOS or Android.